BOVEDA fuktighetsregulator / moisture regulating pads: 10 STYKK x 8g (58%). 150 NOK
kr150.00
Tomt på lager
Dele
Beskrivelse
BOVEDA fuktighetsregulator / moisture regulating pads
10 STYKK / 10-PAKKE x 8g (58% fuktighet)
150 NOK
Finnes i 1g, 4g, 8g, 67g på 62% (forskjellige priser), også 8g i 58%.
Perfekt størrelse for pilleboksene, å holde plantemedisin perfekt fuktighet, og oppbevare smak og effekt. Den oppbevares bedre over lengre tid og bevarer kvaliteten.  Dessuten blir det mye mer behagelig for lungene når ikke urtene er knusktørr.
Instruksjoner: legge Boveda-paden i en lufttett beholder med tørkede urter (glassboks eller pilleboks).  Den er 2-veis regulering som hjelper med blomst som er enten for tørr eller for fuktig.  Jo mer tørr eller fuktig blomsten er, jo mer paden må fungerer for å regulere til riktig fuktigheten av 58%.  Når paden er hard er den oppbrukt og må ersattes med en ny, men ellers kan den vare i flere måneder eller år.
Hvilken størrelse Boveda skal man kjøpe? Ifølge deres veiledning:
1g: 3.5g tørket blomst
4g: 15g tørket blomst
8g: 30g tørket blomst
67g: halv kilo (500g) tørket blomst
På lager i Oslo nå (ta kontakt på www.facebook.com/fordampere, eller fordampere@outlook.com for å avtale bestilling via post til hele Norge, eller henting i Oslo).
English:
PROTECT PRODUCT AFTER IT LEAVES THE DISPENSARY WITH THE BOVEDA 8 GRAM
Sold in a package of 10, Size 8 Boveda 2-Way Humidity Control is perfect for small medicine containers, small bags and pre-roll tins. Boveda is precise humidity control for herbal medicine, which restores and maintains humidity to create a protective monolayer of water molecules over trichomes, so you can Save the Terps with the original terpene shield. Experience for yourself how much better cannabis is with Boveda. Choose from 58% or 62% RH.
INFORMATION
Individual product dimensions: 2.75″ x 2.5″
Sold in packages of 10, Boveda Size 8 protects your flower with the original terpene shield. Boveda is precise humidity control for cannabis, which restores and maintains humidity to create a protective monolayer of water molecules over trichomes, so you can Save the Terps. Choose Size 8 Boveda for small jars and small bags. Experience for yourself how much better cannabis is with Boveda.
Protect terpenes with the global leader in 2-way humidity control. Place Boveda in packaging and/or storage for precise Relative Humidity (RH) to protect all the good stuff (terpenes, cannabinoids and flavonoids).
Choose 58% or 62% RH—a personal preference depending on how you prefer your experience or on what the humidity level is where you are. Some prefer 58% RH for personal-use products or 62% for larger herbal storage.
All-natural salts and purified water inside keep terpenes protected for 2-4 months in airtight containers. Just place Size 8 in a container with up to 1 oz (28 g). Replace when Boveda is rigid.
Preserves the aroma, flavor and effectiveness until after the grind. Boveda creates a monolayer of purified water molecules that naturally coats trichomes to shield terpenes and cannabinoids preserving the smell until use.
PACKAGING:
10 pack, unwrapped in resealable high-barrier plastic bag. Zips closed to keep these unwrapped Boveda fresh for up to 2 years.
Do not mix Boveda RH levels within the same container, and do not use Boveda in the same container with other humidification products. They will fight against each other and reduce the efficiency of the Boveda.
Those of us in the cannabis industry often find ourselves playing the role of educator as well as cultivator and purveyor. Both medicinal patients and recreational users look to us for advice on strains, therapeutic benefits and quantities.
The latest buzz we should share is how to properly store flower after it leaves our loving care. Whether buying buds or pre-rolls, our customers must properly humidify their cannabis to retain its healing and strong effects.
Previously controlling humidity used to be difficult for smaller herbal quantities—until now. Boveda, the global leader in 2-way humidity control, has created small 1g sizes that still pack a big punch. They're specially sized and designed to fit into smaller flip-top bottles, small plastic bags and the like.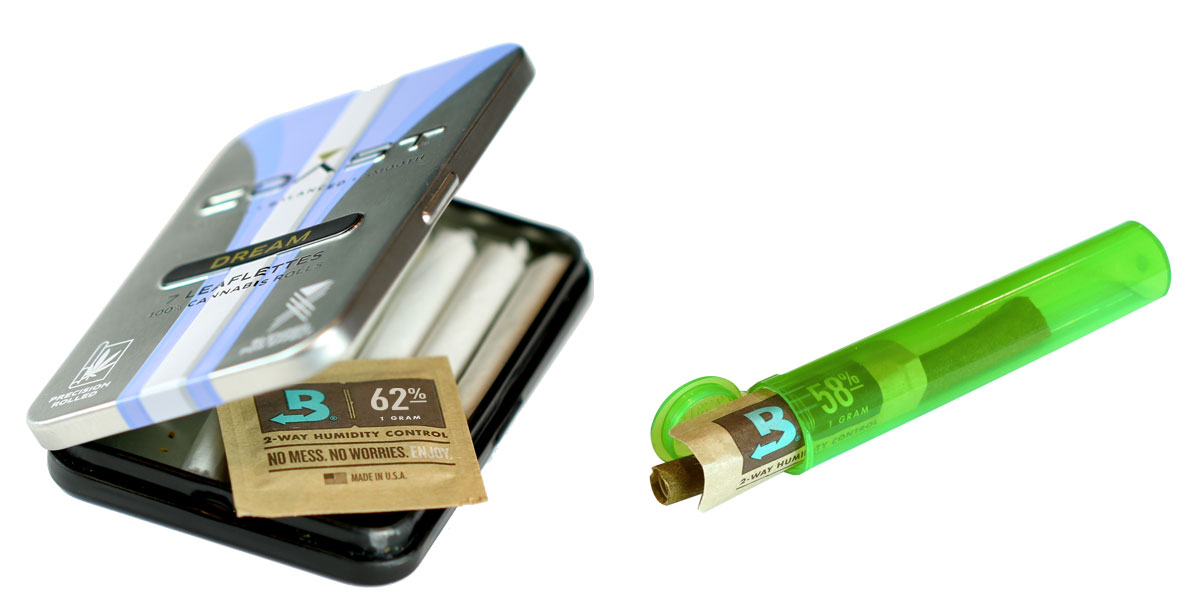 Boveda queried the cannabis packaging community and found that although the Boveda 4g was perfect for up to ½ ounce of flower, the package was just too big to nest in single dose containers. (Too much Boveda wasn't the issue—Boveda can't over-humidify your buds. Using more Boveda than you need just means it will last longer because it doesn't have to work so hard.) But if a Boveda can't fit in a container, a customer is exposing his dosage to damaging humidity swings.
So Boveda scientists went back to the drawing board. After more than a year of engineering, not one but two new sizes for cannabis retailers and customers were designed. Each little Boveda does the same big job of adding or absorbing moisture to lock in a precise relative humidity (RH) that's perfect for cannabis.
CANNABIS BRANDS ARE NOW PRE-PACKAGING PRODUCT WITH BOVEDA TO PRESERVE THE QUALITY OF THEIR HERBALS WHILE THEY ARE STILL ON THE SHELVES:
And dispensaries aren't just using the Boveda  for display. Sellers are sending customers on their way with the 1 grams tucked into tins and tubes, too. It's the smart way to protect product along with reputation.